As part of our ongoing initiative to transition customers from the 3PIP Gateway to Microsoft Teams SIP Gateway, Microsoft collaborated with HP Poly to facilitate Bulk Sign-In, an enhancement to Teams SIP Integration in Poly Lens. This capability enables Administrators to remotely provision up to 100 common area desktop and conference room phones simultaneously, in just a few steps.
Poly Lens has introduced two additional Lens settings: Bulk Onboarding and Tenant GUID. This updates the device provisioning information to Teams SIP Gateway service which can be applied to any of the following Policies - Device/Device Model/Device Group/Site. We continue to include support for compatible devices with Teams SIP Gateway such as VVX, Trio, CCX series, and Edge E series just certified by Microsoft for compatibility. For more information, please see Microsoft - Plan for SIP Gateway.
With this enhancement and SIP Gateway compatible Poly devices, organizations can save valuable time and resources while delivering a better experience for the end user. This feature is currently released with a Preview tag as we coordinate with Microsoft to promote to Generally Available. You are welcome to provide your Feedback from Poly Lens using the Feedback tool in the bottom right corner of the Poly Lens portal. Be sure to select Preview as we track this release.
To get started, go to Manage > Policies > Individual Device/Device Model/Device Group/Site.
Select Integrations > Microsoft Teams.
Then Enable Lens Assisted Provisioning Feature and set your SIP Gateway Region and Device Language.
Lastly, enable Bulk Onboarding and enter your Tenant GUID (Office 365 Tenant ID) from Microsoft to enable PowerShell commands to remotely deploy to Common Area Phones. Note: For detailed information see Microsoft Teams - Bulk Sign-In on Adding Public IP Range(s) as Trusted IPs at Teams Admin Center.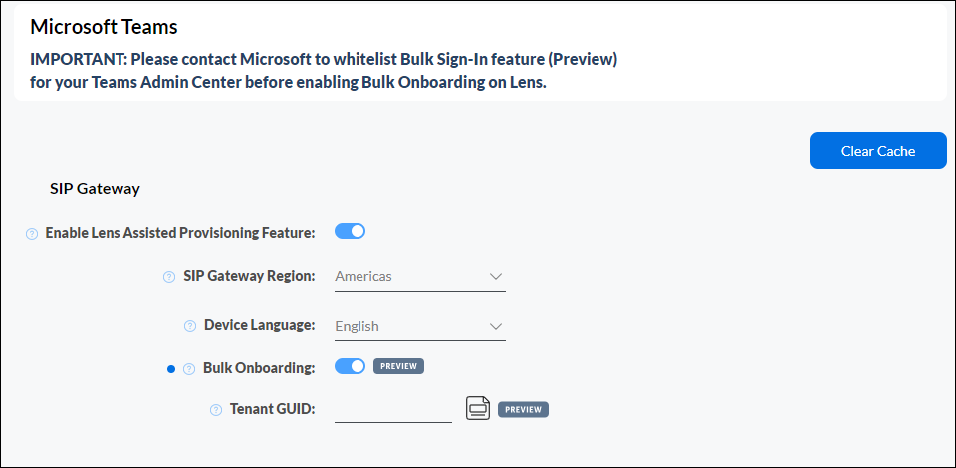 Note: The Clear Cache button that will allow you to start the integration over with the Teams SIP Gateway platform. A new deviceID and provisioning URL will be sent for authentication.
Teams SIP Gateway Troubleshooting: When a device is signed out or getting the following error from PowerShell Device not found with Bulk Sign-In use Clear Cache starting from the Individual Device Level and then expand to additional device policies experiencing this issue. This Clear Cache process will assign a new device ID that will be pushed back to the device. The device will sign back in on the next provisioning cycle (typically every 24 hours) unless you explicitly reboot.
For more information on Teams Admin Center pre-requisites, Lens assisted provisioning with Bulk Onboarding and Tenant GUID, and Microsoft PowerShell commands to remotely deploy to Common Area Phones, see Poly Lens Help - Bulk Sign-in.