We're excited to announce a significant upgrade to our Poly Lens Visual Analytics with Power BI integration, empowering businesses with even deeper insights into their communication and collaboration environments. Experience the future of data-driven decision-making with the newly enhanced Poly Lens Power BI integration. The integration offers customizable dashboards, interactive visualizations, and the ability to combine Poly Lens data with other business metrics for a holistic view of your organization's performance.
Call Detail Records (CDR) - Uncover Actionable Insights​
Gone are the days of making decisions based on guesswork. The new CDR reports provide a comprehensive view of call data, enabling you to analyze call patterns, duration, participants, and more. By leveraging this data, you can fine-tune your communication strategies, identify where issues occurred, and enhance your organization collaboration experiences. The new CDR reports embedded in the updated Power BI integration empowers you to make data-driven decisions that truly impact your bottom line.
Key Benefits of the CDR Reports Feature​
Call Pattern Analysis: Gain a clear understanding of peak call hours and days, allowing you to allocate resources effectively.
Call Duration Trends: Spot trends in call durations and identify the most popular device models to help plan your next investments wisely.
Performance Metrics: Measure call quality metrics to ensure optimal communication experiences for all participants.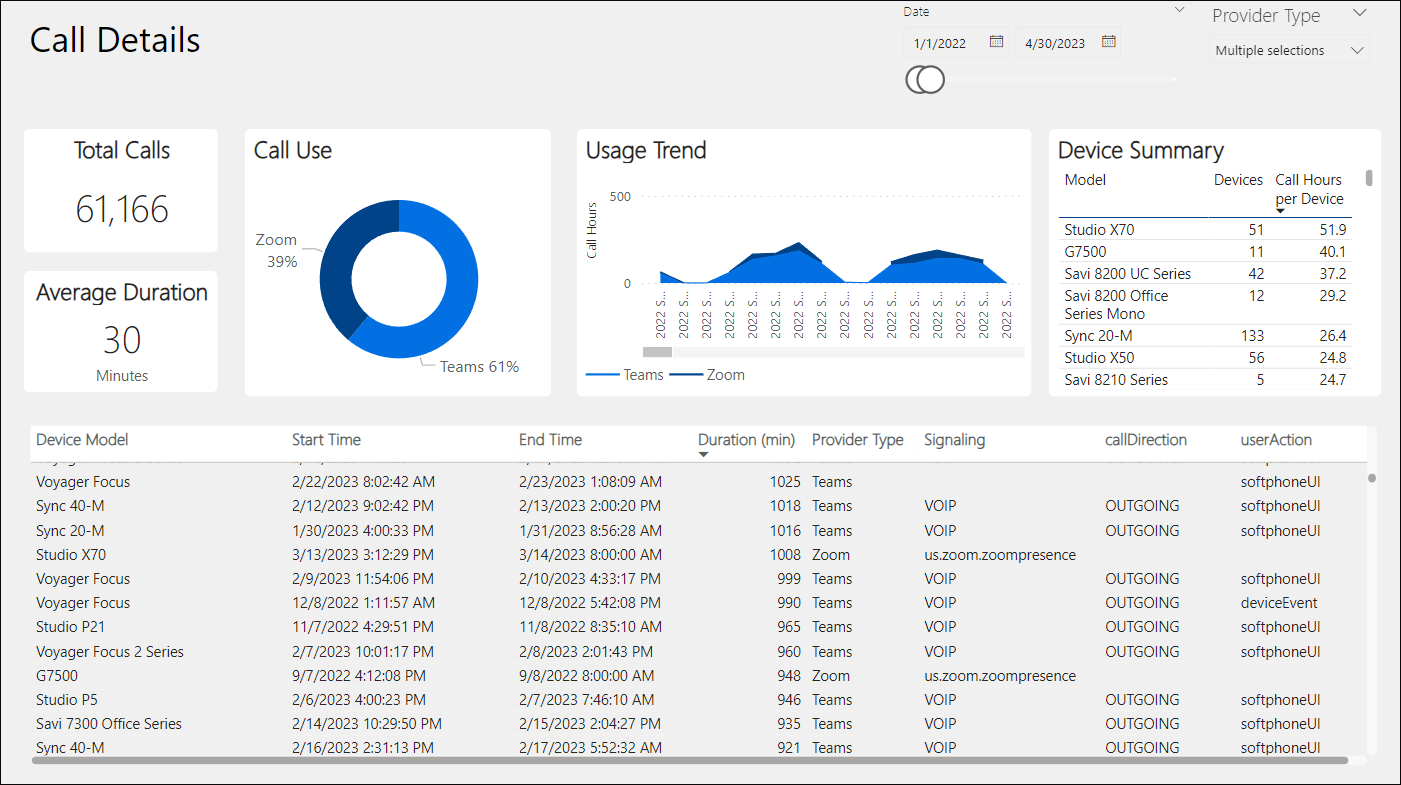 Efficient use of meeting spaces is crucial in today's dynamic work environments. With the new Room Utilization Reports support with Power Bi, you'll gain valuable insights into how your meeting rooms and collaboration spaces are utilized. Make informed decisions about space allocation, optimize room configurations, and eliminate underutilized areas to foster a more productive workplace.
Key Advantages of Room Utilization Reports​
Space Allocation Optimization: Understand how often meeting rooms are booked and used to optimize room allocation.
Resource Planning: Plan maintenance and upgrades based on real usage data, preventing disruption to critical meetings.
Collaboration Trends: Identify preferred rooms and layouts to enhance collaborative experiences.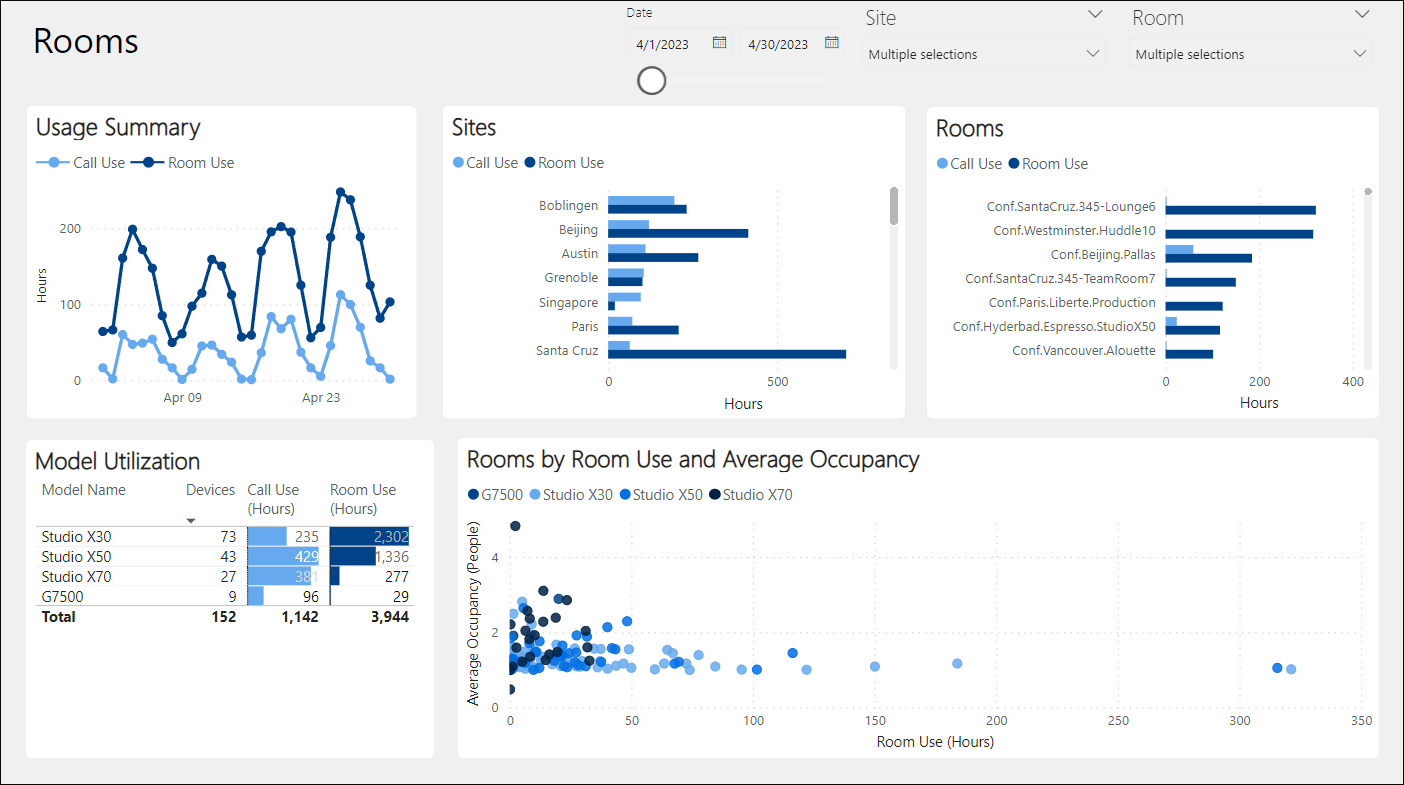 With the addition of Call Detail Records (CDR) and Room Utilization Reports, Poly Lens continues to revolutionize how organizations optimize their resources and enhance productivity. These new reports are just another example of our commitment to providing you with the tools you need to optimize your communication and collaboration environments. Stay ahead of the curve, enhance productivity, and make informed decisions with Poly Lens. Setup is easy, and you'll love the newly expanded starter dashboards designed to get you started with instant visualizations of your Poly Lens inventory, CDR, and Room Utilization Reports. Don't use Power BI? No problem, you can connect your preferred analysis tool to your Poly Lens Visual Analytics database to gain access to your device telemetry data and visualize it in a supported tool that works for you.
Ready to explore these new groundbreaking reports? To get started, find the new tool by going to the ACCOUNT menu > Manage Accounts. Select an Account from the list. Select Integrations > Visual Analytics. For more information on how to get started, data organization, and schema diagrams, visit Poly Lens Help - Visual Analytics.
Note: The Call Detail Records (CDR) and Room Utilization Report features are available with Poly+ Enterprise
and Elite services. Please refer to our documentation for more details on feature availability.