This section covers permissions granted for Poly Lens access.
The following enterprise application is used to grant permission for Poly Lens to access various portions of an Office 365 tenant.
Microsoft Single Sign On (SSO)​
The following request will appear when signing into Poly Lens for the first time with Microsoft SSO, and must be approved to access the portal in this manner.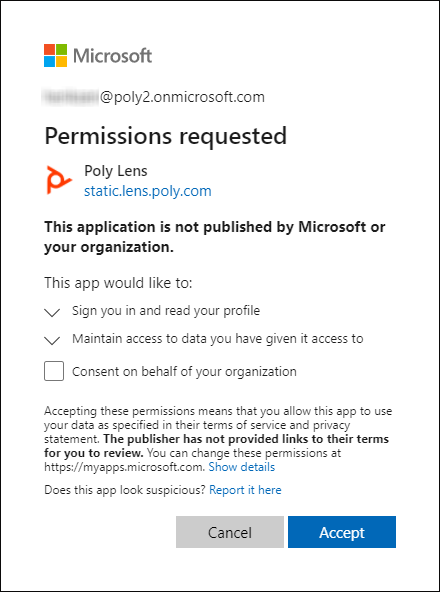 Required Permissions to Enable Microsoft Single Sign On​
Sign you in and read your profile
Allows you to sign in to the app with your organizational account and let the app read your profile. It also allows the app to read basic company information.
Maintain access to data you have given it access to
Allows the app to see and update the data you gave it access to, even when you are not currently using the app. This does not give the app any additional permissions.
The Consent on behalf of your organization option is not required. It will only be presented when the approving user is also an administrator in the Microsoft 365 tenant.
Note: Consent to 3rd party applications is likely controlled by your organization's administrators through the Azure Active Directory Consent and permissions settings. See your administrator for assistance.